The Corona-coaster
What a year 2020 has been! One way of describing the year is equating it to taking an involuntary ride on the 'Corona-coaster'. Before we unexpectedly climbed on this once in a lifetime ride, we had a number of goals and plans set out for the year with our various programmes at Jabulani. In the first two months of the year, we were able to achieve some of these goals (or at least make a promising start!):
We saw a rise in numbers of our 'Librarian Stars' (our community reading programme). 

We held two parent meetings as well as a workshop at our preschool. Our teachers also attended a workshop with the Eastern Cape Hub.

Some meetings were held with the tribal authorities and we now have a strong community education team advocating for the importance of Early Childhood Development (ECD). 
An unexpected twist in the track
But of course, our year hasn't actually panned out as expected. Lockdown struck and our "normal" education programme ground to an immediate halt. It took us a while to shake off the shock and regroup. How could we continue our programmes, all of which are based on engagement and interaction with others, without being able to meet our learners in person or in a group context? We had to go back to the drawing board. 
With Kamvalethu's generous unrestricting of funds in order to meet the needs of our community during the Covid crisis, our education team took up a new mantle. With training from the doctors at neighbouring Zithulele Hospital, our team set off to walk the rolling green hills. They were armed with a superhero backpack containing hygiene packs for each family and educational resources to keep our young learners' minds active. The team also explained essential healthcare information and did basic screening and gave out seed packs to empower the community to grow their own food.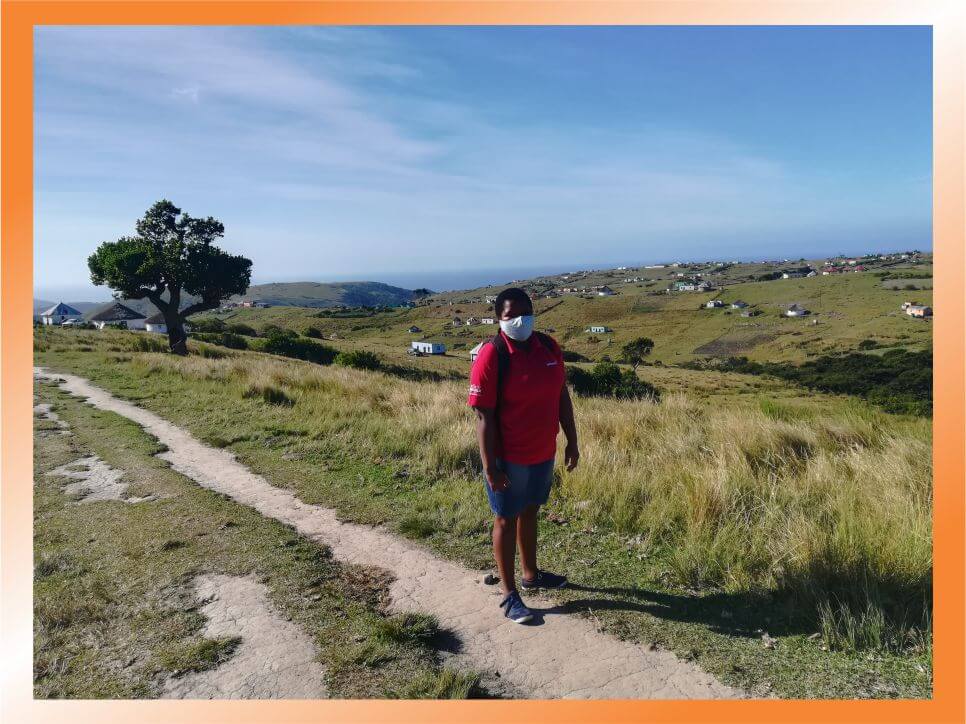 Above: A community worker ready for home visits
Learning from home
On the whole, families rejoiced in receiving this support (some were very anxious and fearful). One mother told us how her children had started writing on the walls, because they had no paper, so she was incredibly grateful that her children could now draw and write on the paper that was given to them. Another mother said that her child had forgotten how to write her own name, but when she received the education pack she immediately started to practice writing, and was soon able to write her name again. Another little boy was so excited that his teachers had personally paid him a visit, and let his mother know that he couldn't help with the household chores for a while as he had important school work to complete!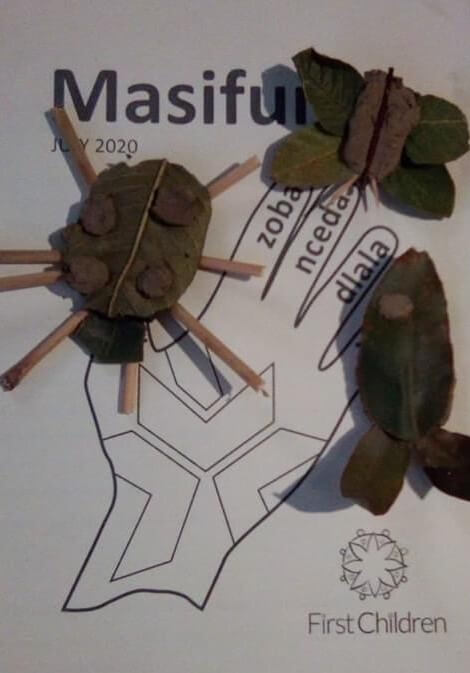 Above: The Masifunde learning from home booklet 
When will it end?
Much of our focus has been on doing all of the things that we always hope to do, but that tend to fall off the priority list. We are fixing and sorting and making new educational materials for our classrooms. We are sorting books in the library and we are planning engaging learning-through-play events for when Covid has largely left our hills. Our library is open, with limited services and we are assisting students with finding books that they need. We are preparing new education packs to hand out with food parcels.  
 The Corona-coaster continues with an uncertainty of when it will end. There is, however, a glimmer of hope on the horizon. The numbers of Covid positive cases is now steadily declining. And with this good sign, we have, after many discussions and meetings with the parents, decided to reopen our preschool. The classroom is well prepared, but we will not let the Covid safety protocols overshadow the needs of young children. We will be safe, but still show love and care to our little ones who have been away from the classroom for almost four months now. We are ready to welcome them with open arms, and an elbow bump Covid greeting!