Curriculums and reading programmes must focus on both the skill to read and the will to read. Reading skills and the will to read operate in mutually reinforcing cycles in which more skilled readers are more likely to read for enjoyment, and reading for enjoyment improves literacy skills.
In the proliferation of national and provincial initiatives to promote reading there tends to, quite rightly, be a strong focus on developing reading as a technical skill. We focus on phonics, phonemic awareness, vocabulary, fluency, and comprehension. All of these are critical building blocks for literacy development, but in the mind and experience of a young reader, these fail to answer the "why". The processes to develop reading skills rarely seem to speak to the core motivation for developing them in the first place.
This is especially true for young learners who were not read to at home, and who then encounter reading in school as a process of decoding and meaning-making without a clear motive.
This apparent under-emphasis on reading motivation informed the Otto Foundation's decision to prioritise the promotion of reading for enjoyment. We know from the research that a child's propensity to read for enjoyment is a powerful predictor of their long-term success in education.
The mechanisms to promote reading for enjoyment tend to fall into four categories:
Providing learners with access to books and choice in their reading materials. In this category of reading initiatives it is particularly important to ensure that book choices are relevant to the lived experiences of the children, and are informed by the themes and topics that children are curious about.
Efforts to create and/or promote strong reading role models (for example: parents, librarians, teachers or peers who are avid readers).
Providing children with safe spaces to read.
Initiatives to celebrate reading and to demonstrate to children that reading is valued and recognised as being an activity of value.
We believe that well-stocked school libraries and active library programmes can support all four of these pillars of reading for enjoyment.
One of our initiatives to promote reading for enjoyment is the annual Sonke Story Quiz.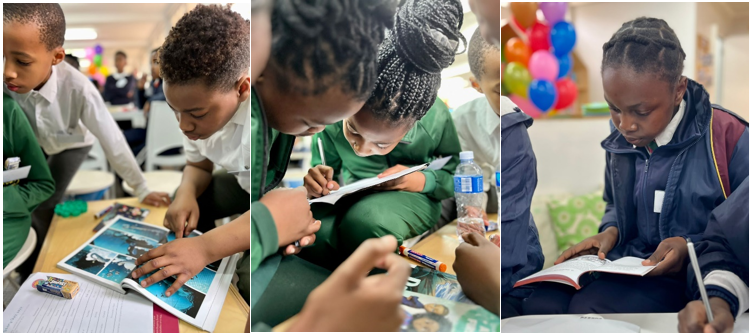 Our team hosted our fourth Sonke Story Quiz in September. This year we had seven teams participating in the quiz – including learners from: Chapel Street Primary School, Holy Cross RC Primary School, Rahmaniyeh Primary School, St Mary's Primary School, Walmer Estate Primary School, Zonnebloem Boys' Primary School, and Zonnebloem Girls' Primary School.
Learners from the seven schools all read five local books selected by the Otto Foundation team, including:
Once Upon A Sign: Ayen's First Day by Nancy Gaylard
The Forgotten Scientist: The Story of Saul Sithole by Lorato Trok
Pearl of the Sea by Anthony Silverston, Raffaella Delle Donne & Willem Samuel
Road to Glory: Thrilling Sporting Moments by Jeremy Daniel
Waldo and the Werewolf with the Red Takkies by Jaco Jacobs
On quiz day the teams answer questions about these books. The winners and runners-up win individual book vouchers and book prizes, as well as cash prizes for their schools.
The quiz gives us an opportunity to have fun with reading, to showcase and support local books, to give recognition to the avid readers, and to celebrate reading as an activity of value. It is also a great way to create peer role models for reading in the participating schools.
Our team continues to look for every available avenue through which young children could be encouraged to explore the world of books and become lifelong readers.