The more words the child has, the more words they will learn in their language; the stronger their language, the more prepared they are to read;
We are delighted to say, against all odds, things are looking up for the children in the Wild Coast network! Thanks to the tireless efforts of our programme manager Dawn, one of the well-established schools, Ncinci Ones Montessori, is a distributing partner of Book Dash and we recently received an incredible gift of 2700 isiXhosa children's storybooks from them.
Neuroscience provides compelling evidence that 85 to 90% of brain growth occurs in the first five years of life, so cashing in on this absorbent time in their lives is critical. (Hawley: 2000) Babies and young children are sponges that soak in everything in their environments. All day, every day their growing brains are at work and reading to children is one of the most effective ways to build the 'language' neural connections. When children are young they learn mother-tongue language from the speech they hear. Reading with them introduces many more words than those used in day-to-day communication. They hear and learn lots of new vocabulary as well as understand how words are used in a different context. Researchers estimate that children who are regularly read to in the first five years are exposed to 1.4 million more words than children who aren't read to during those years.
(Science Daily: 2019) "The more words the child has, the more words they will learn in their language; the stronger their language, the more prepared they are to read; children who are good readers tend to achieve better across the curriculum, making them more likely to graduate from high school"
Listening is a skill children must acquire before they can read themselves. When they sit still and are listening, they develop a longer attention span, build memory retention skills and increase self-discipline and concentration.
Literature is also one of the best ways to help children understand something without necessarily having to experience it for themselves. It essentially provides them with expanding background knowledge on their young world, helping them to make sense of what they see, hear and later read about themselves. It offers opportunities to talk about real-world situations in age-appropriate ways, helping children to cope with difficult or stressful experiences and showing that their feelings are normal.
Through books, they learn to understand cause and effect, the consequences of actions and the basics of what is right and wrong. Books help children to exercise logic, think in abstract terms and develop vivid imaginations to further their creativity. Books teach children about different cultural situations, personalities and relationships, thus building an empathetic understanding of humanity.
It is also the conversations that surround the reading that gives it power, helping children to make the connection between what is in the story and their own lives. The conversations that are prompted is what builds the relationships and helps them make sense of their own lives.
"Reading to and with children is a joyous event and a way of fostering strong relationships, giving a sense of intimacy and well-being"
 It provides a wonderful opportunity to support solid parent-child relationships, setting up a positive life course. The importance of this love, attention and trust cannot be overstated. We know that books in homes are very important for children's all-round development and later academic success – but, books in homes in our Wild Coast communities are very rare. And that is why receiving this treasure trove from Book Dash is so unbelievably special!
We gave all five pre-schools one of each of the books so that the teachers could read all the stories to the children. Once this was done, all 189 children were able to choose 8 storybooks to take home. We then hosted parent workshops at the schools with the topic of "The importance of reading to babies and young children".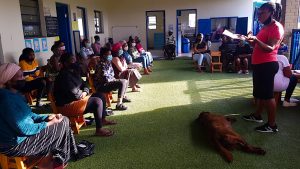 The mamas learned many new things and about how reading is a wonderful tool to help their young children's brains and language develop. One teacher and a mama took turns to read a story to the group, then every mama chose 2 books to take home to read to their children. Each child now has 10 brand new books of their own. The mamas thoroughly enjoyed the workshop and were feeling motivated about reading to their children.
Mrs Horner from Ngoko Montessori said, 
"Thank you very much to Book Dash for the lovely books, our children can now even learn at home".

Photography credit:  Jennifer Moore