Technology has the potential to radically reinforce and support what's being taught in the classroom. When it comes to technology, our rural areas should be prioritised and not ignored.  The typical difficulties that rural communities face (remoteness, poor infrastructure, language barriers etc.) can be surmounted and the Bulungula Incubator is going to show you how.
iiTablet Tshomiz
We have been running iiTablet Tshomiz at Xhora Mouth JSS (a remote rural primary school) for 10 months now. The programme has reached 350 learners and over the next three years we hope to reach 1000 learners at four schools.
We have been working with our Grade 2's the longest and have 80% (yes 80!) of our learners performing excellently i.e. at the highest developmental level. This could very well be due to our intervention (since we've been working with the Grade 2's since last year). Although it's not possible to completely isolate our impact, this is very very positive.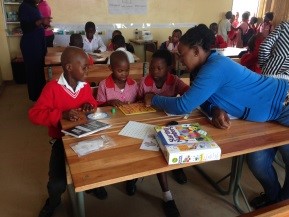 Our work with the Grade 1's and 2's has settled into a good rhythm. They are in their correct groups (working at their own level) and confidently navigating around the tablets. The facilitators (local youth) also have good relationships with their allocated children and are gaining in confidence.   At the beginning of May we began adding Grades 3 and 4. Diagnostic tests have been completed, so that we could assess exactly where they were in the curriculum, locate any particular areas of weakness and place them in groups so that they can learn at their right level.   The Grade 5's have now joined us and will have them using the tablets confidently in no time.
The programme and its potential impact are very exciting.  We will be developing a detailed Tool Kit so keeping following our progress at www.bulungula.org for updates.