The crisis in education is second only to the health crisis in COVID-19
The number of children who have been out of school during the COVID-19 crisis ranges between 1.3 and 1.5 billion*. With 144- 191 countrywide school closures, these numbers represent about 90% of children globally and are likely higher as they do not account for the 250 million odd children not already enrolled in school. More than half of these children are situated in developing countries.  
I have been fortunate to be part of numerous conversations and webinars over the last two months and on reflection, I believe these are the top five implications the education sector is facing and what this means for philanthropy.
Inequality
What this pandemic has done, is amplify already existent inequalities within the education system and potentially set back development efforts by years. Educational outcomes are likely to be negatively impacted. 

Schools are not only places of learning for vulnerable children – they are safe spaces which also provide nutrition and psycho-social support. 

Remote learning is not an option in many contexts, according to the Global Partnership for Education (GPE), as few as 1/5

th

of children are accessing online learning. Many teachers are not equipped with the skills needed for remote learning to take place. 
Dropout Rates
Children who were already on the cusp of dropping out, are now more likely to do so. 

Girls are disproportionately more likely not to return for a host of reasons such as, the care burden falling to them or unplanned pregnancies. 

Some families are simply opting not to send their children back to school, due to commodities, or a general fear around illness. 
Base Needs Concerns  
As governments are the principal duty bearers of providing access to education, they are concerned with tick box activities such as getting schools reopened and teachers coming to school – not the quality of the teaching and learning taking place in the classrooms. 

Many families have lost employment and are food insecure, resulting in education not being a top priority. 

For those families with parents still working, juggling work, home care and your child's education is a real challenge – one which parents are not necessarily feeling equipped for.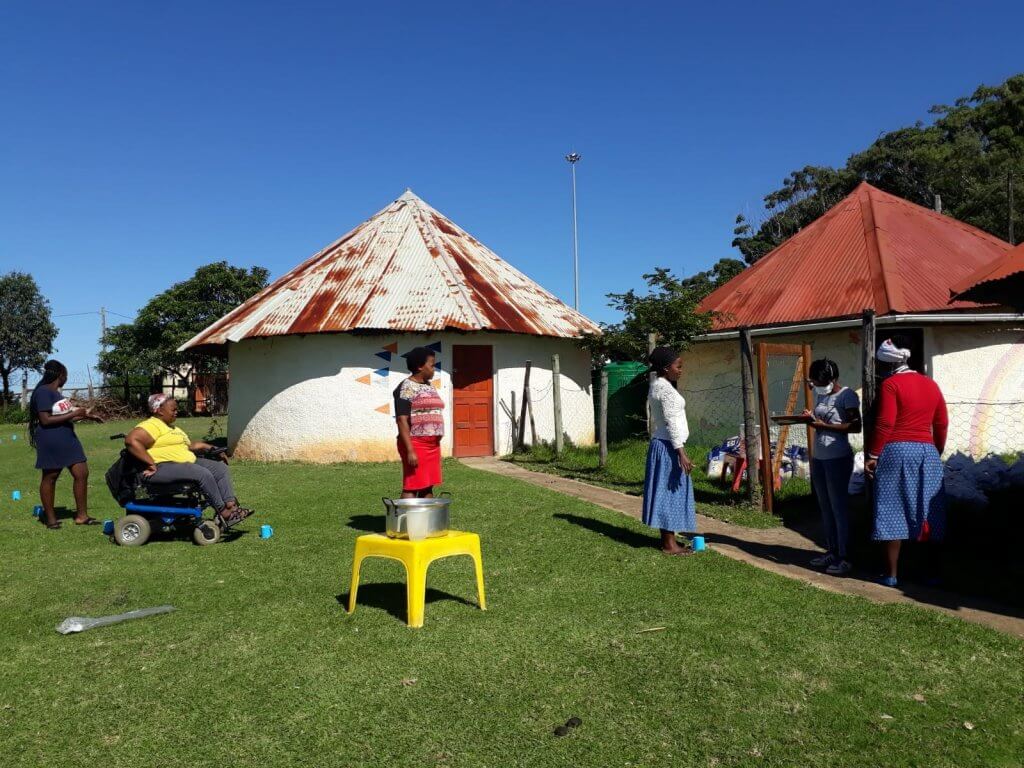 Above: Waiting for food parcels in rural Zithulele, Eastern Cape 
Mental Health
You cannot have a conversation about physical well-being without addressing mental well-being. People's feelings are exacerbated at the moment and when it comes to opening schools and economies, feelings of depression and anxiety are almost certainly going to rise. 

School environments will be totally different – no extra murals or any of the 'fun stuff', with lots of regulations to abide by. 

For teachers. Their concern for their own health and safety and that of the children in their care is likely to weigh heavily on them. They will also have to adapt teaching styles which may not be a simple transition to make. 

For children. They will constantly be under surveillance- smiles won't be visible, no touching or play as before and of course, the fear of getting sick or making their family sick. 
Positive Implications
I wouldn't be doing my Social Work roots justice if I didn't mention the positive implications COVID-19 could be having on the education sector.
The trialing of technology platforms which could enhance learning in the future. 

The link between caregiver involvement in their child's education and higher achievement is well documented. This crisis is allowing for more caregivers to become familiar with their child's curriculum and learning styles – which – if there is a silver lining – this could be it. 

Above: Learning from home
So what could these implications mean for Philanthropy?
Adapt!
The ability to transition and adapt, determine how successful organisations will be. Whether it's this pandemic, or racial injustice, or war, there will always be disruptions. 
The ability to be agile is a potential benefit in the philanthropic sector – Kamvalethu were able to release their first tranche of crisis funding 2 weeks after lockdown hit South Africa. This funding was adapted to food security, not something we ordinarily support, however, it is ultimately about the well-being of the child. 
Looking beyond base needs
As funders, we can look to provide financial flexibility to pressing issues in the development sector, to ensure staff retention and the longevity of programmes post COVID-19. 

We can look at education extension programmes – how to reach those children who cannot access remote learning – and think through longer term solutions beyond immediate relief needs. 

As mentioned earlier, the mental health implications are bound to be significant. We can be thought partners in solutions directed towards these unintended consequences. 
Collaboration
Having trusted partnerships in place where you are exposed to the realities on the ground, present unique opportunities for philanthropy to respond. 

As COVID-19 is a global pandemic, philanthropies that work across borders and continents are uniquely placed to offer support to development spaces.

We can collaborate with other funders where our budgets are already strained or spent. We have experienced this first- hand with Kamvalethu and Maitri exploring funding opportunities together.  

By sharing learnings and approaches with other funders, we can learn from each other. Especially those who have more experience in areas such as education in emergencies or who have weathered similar storms such as the Ebola crisis. 
*UNESCO/ NORRAG/Global Partnership for Education